Digital concepts like mobile-first, micro-moments, design-thinking, customer empowerment, and friction-less journeys are changing everything in the restaurant experience from the interior design to the food and the way the kitchen operates
.
By Chef Shahaf Shabtay, executive chef of EL AL Airlines, and Shahar Markovitch, Chief Digital and Information Officer at EL AL Airlines.

In EL AL we are making a massive effort to improve our customer experience. Part of this transformation includes partnering with a new executive chef, Shahaf Shabtay, to transform our airline culinary experience.
As we were rethinking the culinary experience, it was clear to us that in today's digital age, food experience is tightly linked with digital and technology. In any visit to a restaurant these days, at least one member of your party will likely pull their phone out, take pictures of your food, and upload it to a popular social network (a habit also known as "food porn"). Analysis of traffic in Chef Shabtay's restaurants reveals that the most popular social networks for sharing food pictures, are not surprisingly  WhatsApp, Instagram, and Facebook (in that order).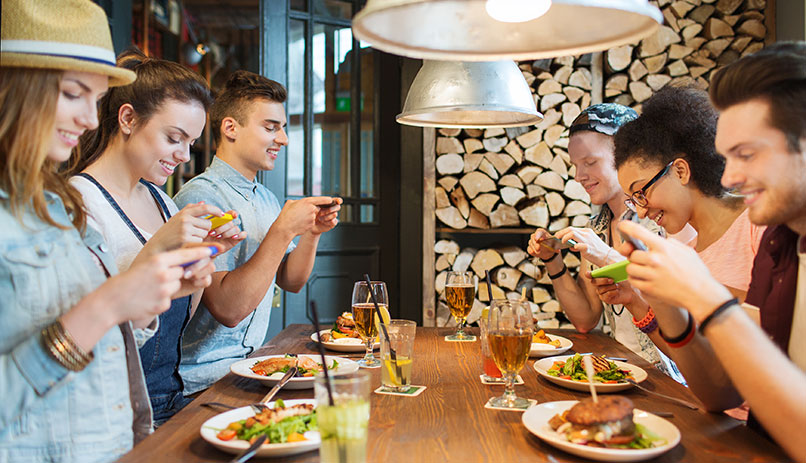 This behavior is changing the way chefs are thinking about dish design. Even before the internet age, top chef were always thinking about visual design of their food and plating – now, when every dish is expected to be picture-perfect there's even greater focus on visual appeal of the dish. "When I'm designing a dish today, I am constantly thinking about the visual aspects of it and how will it look in Instagram and social media", Chef Shabtay admits. "For example, I will always try to mix three colors for each plate. If in the past I used to spread the potato puree thin as a line, I now put it in a bowl, as the line does not look good in pictures. I will think about how to add more visual elements to the dish, for example, by adding a golden spoon instead of using the regular spoon on the table. I will put sauce on the side and ask the waiter to add it on the table for extra effect and for it to look fresh when people take a snap".
We were wondering: if Instagram is clearly changing how chefs design our food, what is the impact of the broader digital revolution on the restaurant business? What implications would that have on the way we design, prepare and serve our food on the plane and in our lounges?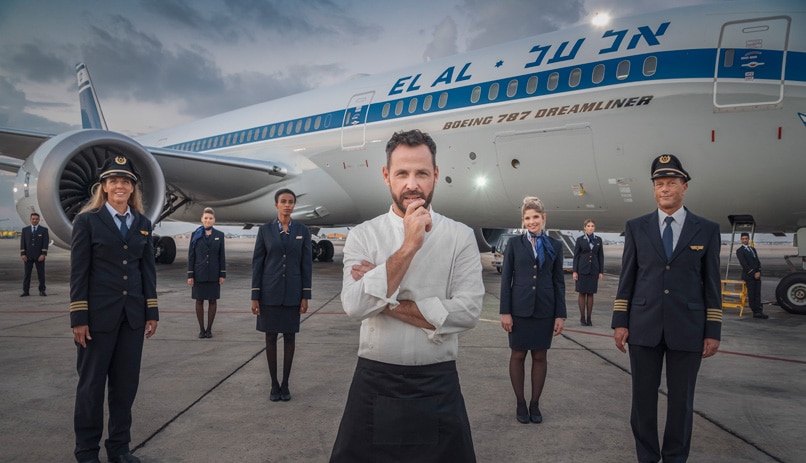 To answer these questions we started exploring the deeper and broader connections between digital customer experience and the food experience in restaurants. What surprised us is that the link between digital product design and modern restaurant design is not only limited to "food porn" and design of the dishes. Many of the same concepts, methods, and practices that define digital product design from mobile apps to websites apply to today's culinary experience in restaurants.
"Mobile First" Restaurant Design
Our smartphones have become an integral part of our life. Therefore, one of the most important concepts in digital product design today is designing product for mobile users, a practice called "mobile-first" design. Designing products for smaller screens, vertical scrolling, simple interactions, and limited attention span of the users.
We discovered that new restaurants are also designed for a "mobile-first" customer. We all use our mobile phones while eating and we require a larger personal space for our phone and accessories. As a result, restaurant tables need to get bigger. Average size of a small lunch table used to be 70X70 cm and now needs to grow to 90X90 cm. Restaurants also need to think about their chairs, specifically – what type of charis would allow diner easy access to their phones (for example, no handles). Moreover, we need at least four times more electrical sockets than before for people to charge their phones.
In addition, restaurant designers have to take into consideration behavior that is driven by constantly talking on your mobile. Many customers prefer not to talk on the phone next to the table. According to our observations, the most popular area for talking on the phone is next to the restroom, so restaurants need to make sure that there's enough space for people to talk comfortably.
Finally, and probably the most important aspect for digital customers, is Wi-Fi reception. Research shows that free Wifi is one of the most important factors for millennials when deciding on hotels to stay during the trip. We suspect the day is not far where this will be (at least partly true) for restaurants. For now, suffice to say that restaurants must ensure great, free, Wifi reception throughout their establishment.
Yelp is killing the Restaurant Menu
"Just Google It" is a famous meme that came to describe the fact that everything is on the internet. Digital customers are much more informed and knowledgeable about products and services they buy. For example, before booking a vacation, customers will spend more than 70 days in average doing their research on Google, comparing prices and options on airlines' websites or meta-search engines, and consulting their social networks. The culinary scene is no different; More and more customers are coming to the restaurant knowing exactly what they want, after doing their research on Yelp or seeing the dish tagged on Instagram. In Shahaf's flagship restaurant, the top seven dishes star in all his diners' social posts. "Customer will come to the restaurant knowing what they want. They just tell the waiter immediately to go and order these dishes. We don't need a menu any more".
In-restaurant personalization
The internet enables the digital customer to know much more about products, services and brands. At the same time, it is no secret that brands also know a lot more about their customers. Almost everything we do digitally is recorded somewhere, allowing digital businesses to offer a personalized experience to their customers, from content and services to marketing campaigns and even websites and applications. This personalization is coming to the restaurant world.
Walk into a technology enabled restaurant these days and the host will know how many times you've visited them before, when your birthday is (maybe it's time for a special treat) and what price range you opt for in your wine selection.  That is not all – innovative restaurants are now using digital marketing techniques during your stay at the restaurant. When you surf the restaurant's WiFi you'll get targeted messaging about its food ("you have to try our new desert…") and you will be "marked" for future commercials from the restaurant (a practice called "retargeting" in the marketing world). It is no wonder that McDonald's just recently acquired an Israeli personalization start-up for more than 300 million dollars.
Acceleration and Reducing Friction
 One of the outcomes of our digital life is the accelerated pace; we expect to have everything "right here right now" and we lose patience quickly. Products and experiences need to be as frictionless and seamless as possible. Textual content must be concise and to the point, influenced by Twitter and emoji. On the web, redundant steps, additional clicks, and wordy paragraphs will lower user engagement, satisfaction, and conversion rates.
To match this trend, some chefs are employing digital experts to optimize the content of their menu. Menus are designed to improve readability in a same way that we design a website, including analyzing the reading pattern of customers and highlight relevant menu items. These experts will also take a "twitter" style approach shortening the description of a dish in the menu from 12-16 words to only 6 or less. They will use descriptive words that are more likely to get the customers to order the dish (There's a reason why word like "tender," "succulent," and "Cajun" are appearing in more and more menus)
With our accelerated pace of digital-life, it is no wonder that the average time a customer spends at a restaurant has reduced significantly, from 90 minutes for dinner at an upscale restaurant to between 40 – 60 minutes . As a result, chefs need to rethink how to condense the dinning experience as well. As digital customer are used to frictionless experiences, the culinary experience should be seamless as possible. In the past, the waiter used to ask diners when they want their next dish. Today, customers expect the waiter will just bring the next dish when they see the customer is ready. Almost all modern restaurants are now moving to a model where you serve when food is ready; You no longer need to wait until all dishes are ready and serve them together.
The extent of interaction with the waiter has reduced significantly. Shahaf estimates that the interaction with his waiters has been cut by half in the last few years, instead of 6 interactions with a waiter only 3 are needed. The customers are on their mobile anyway. For example, a businessperson eating lunch alone will spend only 30 minutes on food today, only 10 of them actually eating, and the rest on his smartphone.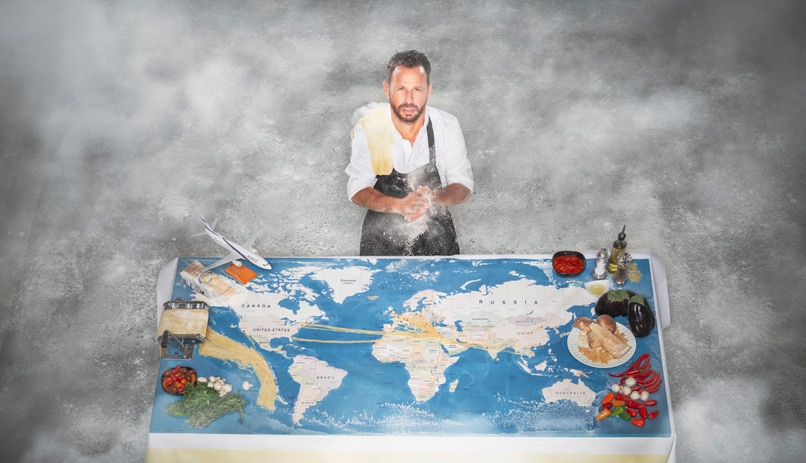 Automating the Restaurant
To be able to answer the customer's demand for speed, businesses have to automate many of their back-end processes and streamline their operations. Amazon, for example, is investing heavily in the operation side of its business to enable rapid package delivery. Airlines' customers wanted automated services and support – when your flight is delayed due to weather or other reasons you expect the airline to automatically book on another flight and notify you immediately about the change.
Restaurants must become much more efficient to deliver food quickly to the customers. In technology forward restaurants the whole process from food ordering to preparation operates much more efficiently. The waiter enters the order on his tablet, which is then immediately printed in the kitchen.
Only a few years ago there used to be only one printer in a kitchen and the head chef would distribute the order and tell everyone what do. Today there is a printer in every workstation in the kitchens, everyone gets the order simultaneously and start preparing it – it's much faster and there's less talking in the kitchen, leading to significant time reduction in food preparation. In some places, waiters are being notified automatically when the dish is ready.
Wi-Fi is becoming critical not only for the customers, but because the entire operation of the restaurant is now based on it, from the music to the lights, from the order taking to the delivery of the dishes.
Micro-Moments
The fact that everything is faster and that customers have less patience means that the importance of smaller interactions is growing. Google calls this "Micro-Moments". Companies need to influence the customer or create a positive experience in that very second, or they lose the opportunity and the customer will leave to another brand's site or app. These micro-moments have changed in restaurants too.
"In the past, when dinners where longer, customers had more patience, and you had the full attention of them, with no mobile phone", Shahaf says. "Chefs could tell a longer story, the first dish would be "sour" then you would have "Amuse-bouch", then 15 minutes later you'll have the savory main dish, then another break and 10 minutes later comes the sweet part. Today the customer will not remember what happened 15 minutes ago, he has already been distracted by the phone.
I am trying to create a Micro-Moment in every bite. In practice, that means that I put sweet-salty-sour tastes together in every dish, so it tells a small-condensed story. You get the whole picture in a single bite".