Eilat is the preferred city of Israeli kids on vacation; who would say 'no' to swimming with dolphins, watching Jellyfish and riding on a banana boat? And it's just the beginning…
.
Ask Israeli kids where they would like to spend their next vacation, and the instant answer would be "Eilat!", with eyes open wide. "But we've been there last year," you may try to protest. "So what?!" the answer would be. And indeed, when such rare natural beauty is coupled with gazillion attractions​, no wonder Eilat is the number one family favorite for years now. Follow the locals is a golden rule in tourism, and one that is really worth following… so come follow the locals to Eilat, Israel's southern queen of sun and fun.​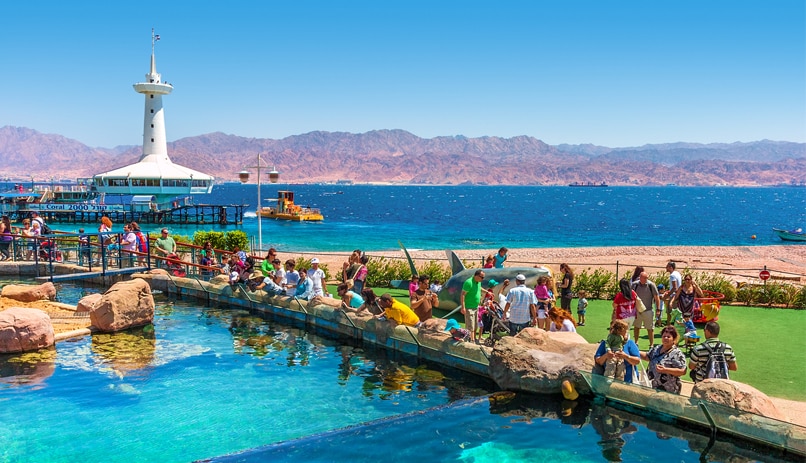 Good morning
If you're still on your way to Eilat​, driving south on road number 90, and you're not in a hurry – do yourselves a big favor and turn right at the sign leading to Timna Park. This a piece of primordial desert full of natural surprises: stunning rock formations, colorful sand, ancient monuments and even a water reservoir, complete with little p​edal boats for hire. The perfect amusement park, with not even one rollercoaster in sight. You can hike, sail or just drive calmly between the different points of interest, and if it gets too late – you're welcome to spend the night by the small lake, in a basic camping site.
All these wonders are less than one hour drive from the city. ​Once you enter Eilat, the first thing you see is red (mountains) and blue (sea). Assuming you've had enough mountains for one morning (we'll get back to it in the afternoon), let's go for the sea. Both children and adults would find it hard to resist the clear blue water of the Red Sea. Why resist then? If Timna was a natural amusement park on land, Almog Beach (between The Underwater Observatory and Isrotel Yam Soof hotel) is the marine version. The best thing to do in this beautiful stretch of water is to rent a snorkel and a pair of flippers, and enter the wet realm of the fantastically colorful creatures that make this place their home. An unforgettable experience guaranteed! You can also just enjoy the beach, but it being a nature reserve means services are basic and limited.​
Looking for a flight to Israel? Book Now​
​If you have older children with you, and they feel they haven't had their share of fun and challenge yet, you can take them banana riding! Multiple agencies around town offer all kinds of water skiing, including the famous banana-shaped buoy riding, and many other extreme water sports adventures.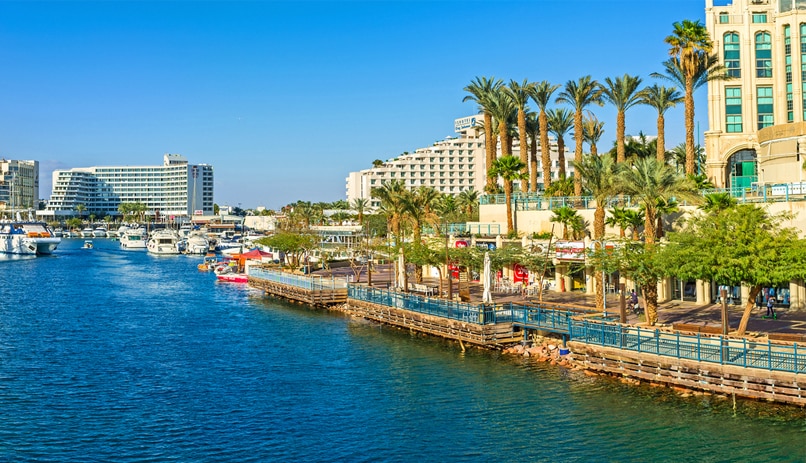 Noontime
It's time to relax a little, but that doesn't necessarily mean you have to leave the seaside. Eilat's Dolphin Reef is a charming getaway for children and adults alike. You can watch the team feed dolphins (and help them do that), swim with the dolphins, dive with the dolphins and get yourself photographed while doing all of the above. Besides, the beach itself is a little paradise – feels almost like an island – and lunch is available at the beach bar.
If beach snacks don't work for your family and you're into a heftier kind of lunch – Barbis (19 Tarshish street) is known to be the best hamburger restaurant in Eilat, capable of satisfying hungry stomachs of every size and age. Bon appetite! ​
Afternoon
Remember we promised a mountain comeback? The Red Canyon (access from road number 12, fifteen minutes drive from the city) is a marvelous nature trek, suitable for all family members. Thousands of years of erosion have left behind a narrow, curvy ravine, decorated by mother nature with exquisite patterns on red and yellow sandstone. The path is properly marked, and there are options for a short round trip (one hour) or a longer one (2-3 hours).
Another good way to spend an hour or two before sunset would be on the back of a camel. Eilat's Camel Ranch (Nahal Shlomo road) will introduce you to this extraordinary desert animal and take you on a camel ride in the close (or farer) vicinity of the ranch. Other desert exploration adventures – in carts or RZR's – can also be booked here.
How about going back to the blue area? The afternoon hours may be too cold for a dip, but The Underwater Observatory allows you to enjoy Eilat's fantastic marine life while still staying warm and dry. The recently opened Shark Pool (the biggest in the middle-east, they say) promises to be a jaw-dropping experience.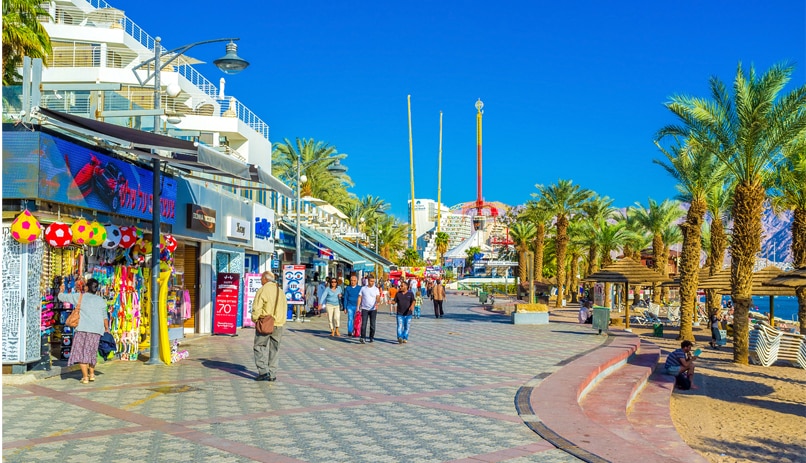 Evening

It seems that Eilat's tourism authorities had in mind another desert city of action and attractions when they constructed the city's Musical Fountain (Yotam road), but who cares where the inspiration came from, as long as you can enjoy the show. The adjacent Skate Park makes for a perfect evening out, and a good pizza in the nearby Pizzaliano (1 Yotam road) will finally wrap it up for the whole gang. What a day!​​